At D-NEXUS, we sell different series of VobZ server Racks. Each Series has his own specifications and recommended usage.
D Series
Entry Level Server Rack
---
This Racks are designed for use in most of the industries.
With a depth upto 1000mm. It is compatible with most of the rack mountable Servers and UPS.
The doors are perforated, Its also well vented with 2 fans.

X Series
Xtra-Cooling
---
This Rack is designed where more servers producing heat are used. It also has extra panels on the side for cables
It has two options : 19″ with the conversion kit / 24″ without conversion kit.
Available depth : 600mm to 1200mm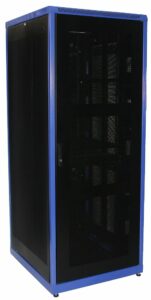 U Series
Build to be most presentable and offering best performance.
---
This server rack's full-length perforated door has been curved for elegant design and to assist in airflow ventilation.
Its Black powder coat finish and perforated door boosts presentation.
Available depth : 600mm to 1200mm