Our server racks are ideal for most servers including those from Apple, Compaq/HP, Dell, IBM, and SUN.
At Rack.Com.Sg we strive to provide a wide selection of server rack products and accessories.
Our Server Rack Cabinets are
Made In Singapore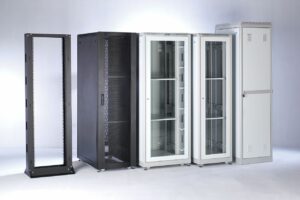 We at
D-Nexus
would like to advise you, the Buyer, to be wary of certain Server Cabinets manufactured outside Singapore, especially those originating from countries such as China. Due to their failure to meet the minimum quality standards, many of our clients who previously purchased these have suffered downtime and/or financial losses due to the breakdown of these Server Cabinets. Our engineers here in Singapore do take the time and effort in designing not only strong, long lasting Server Cabinets by using high quality materials that surpass any standard of quality control but to also have good aesthetics appeal. Be rest assured, at D-Nexus, ALL server cabinets are checked, tested individually and then fully assembled to make sure everything fits in place before ever reaching our clients.
---
In our custom server racks section, just click on the size of server rack you need, select the options you would like in the cabinet, and which rack mount accessories you need. It's that easy! We will build, paint, and configure your premium server rack to your exact specification and deliver it to you – usually within a few days of placing your order with us. Our custom server cabinets are configured to be compatible with most computer server manufacturer's equipment including: Apple, Compaq/HP, Dell, IBM, and SUN.
---
Server Rack Features
All Server Racks feature a steel frame for added stability. The Server Rack Doors have continuous hinges for flawless operation. The top panel is vented so a fan can be added for more ventilation.
Server Rack Specifications
Our Server Racks are made with steel and you have your choice of colors (IBM Blue, Black, Pearl White, Light and Dark Gray).
Server Rack Dimensions
All of our Server Racks are 19″ EIA Rack Mount Standard Width. You have your choice of heights from 15U to 47U and depths from 600mm to 1000mm.
Server Rack Accessories
Our Server Racks have multiple options for Front Doors including Solid Steel, Louvered, Plexiglas, Perforated Steel, and Perforated Steel with Plexiglas insert. All doors are lockable and secure. We offer solid and removable side panels for your convenience. All Server Rack Doors are full length for added security. We also offer multiple power strips that fit behind the rails so they don't take up any additional rack space. A variety of rack shelves, rack mount keyboards, and folding LCD monitors are available and an exhaust fan can also be added to any Server Rack for ventilation.