EM Series 19inch Rackmount Server Rack Cabinets
Reference:
Manufacturer: VBOZ
A cabinet design boasting Aesthetics, Strength and Flexibility coupled with new user friendly features that offers professional solutions to our valuable clients from the various industries
This product is no longer in stock
Availability date:
More info
EM Series Cabinets - an improved cabinet designthat boasts Aesthetics, Strength and Flexibility coupled with new user friendly features offers professional solutions to our valuable clients from the various industries – Security, I.T., Networking, Audio Visual,
Military, Data Center Hosting, Banking, Aviation, Marine, Telecommunications etc.
Compatible for rack mounting of an array of equipments including branded and third party Servers, DVRs, Multiplexers and Base Stations, users are spoilt for choice with our wide range of EM Series cabinet variants. Non-standard and customised sizes fabricated to your requirements are also available. Please speak to our friendly and experienced sales engineers. We provide The Complete Solution to your equipment housing needs.
Features at a glance
Conformance to International Standards: IEC60297-3-100, EIA RS310D, DIN 41494-7. 1U = 44.45mm
Material: Sheet Steel
Finishing: Epoxy Polyester Powder Coated
Standard Heights: 12U, 22U, and 42U
Available Depths: 600, 800 and 1000
Quick Release Front & Rear Doors complete with Swing Handle Lock
Lift Off Design Side Panels with Keylock
Perforated Doors achieve at least 65% True Ventilation
Cable entry access from top and bottom
Rack mounting compatibility for most server brands
Many accessories available to compliment mounting of non 19" equipments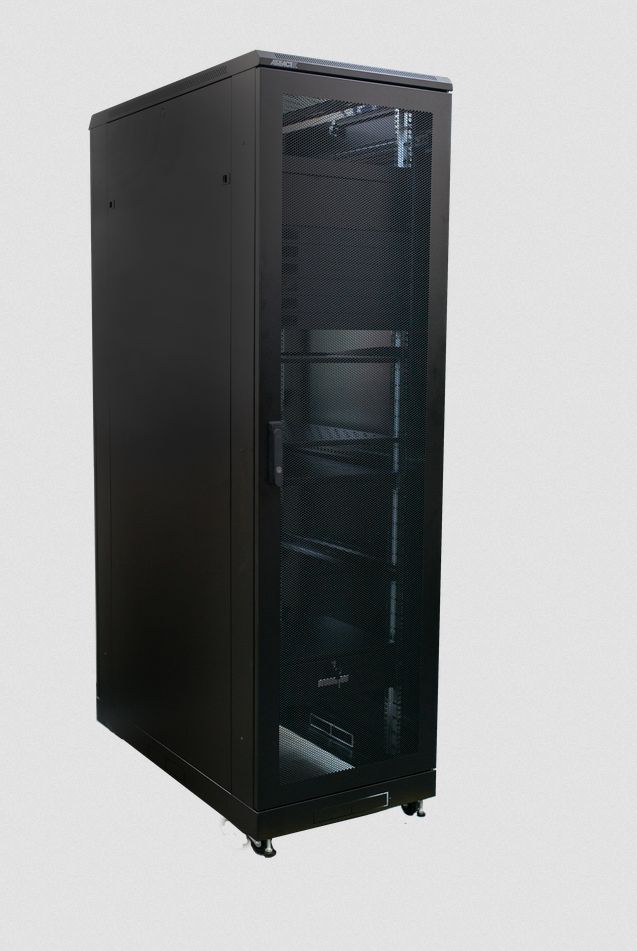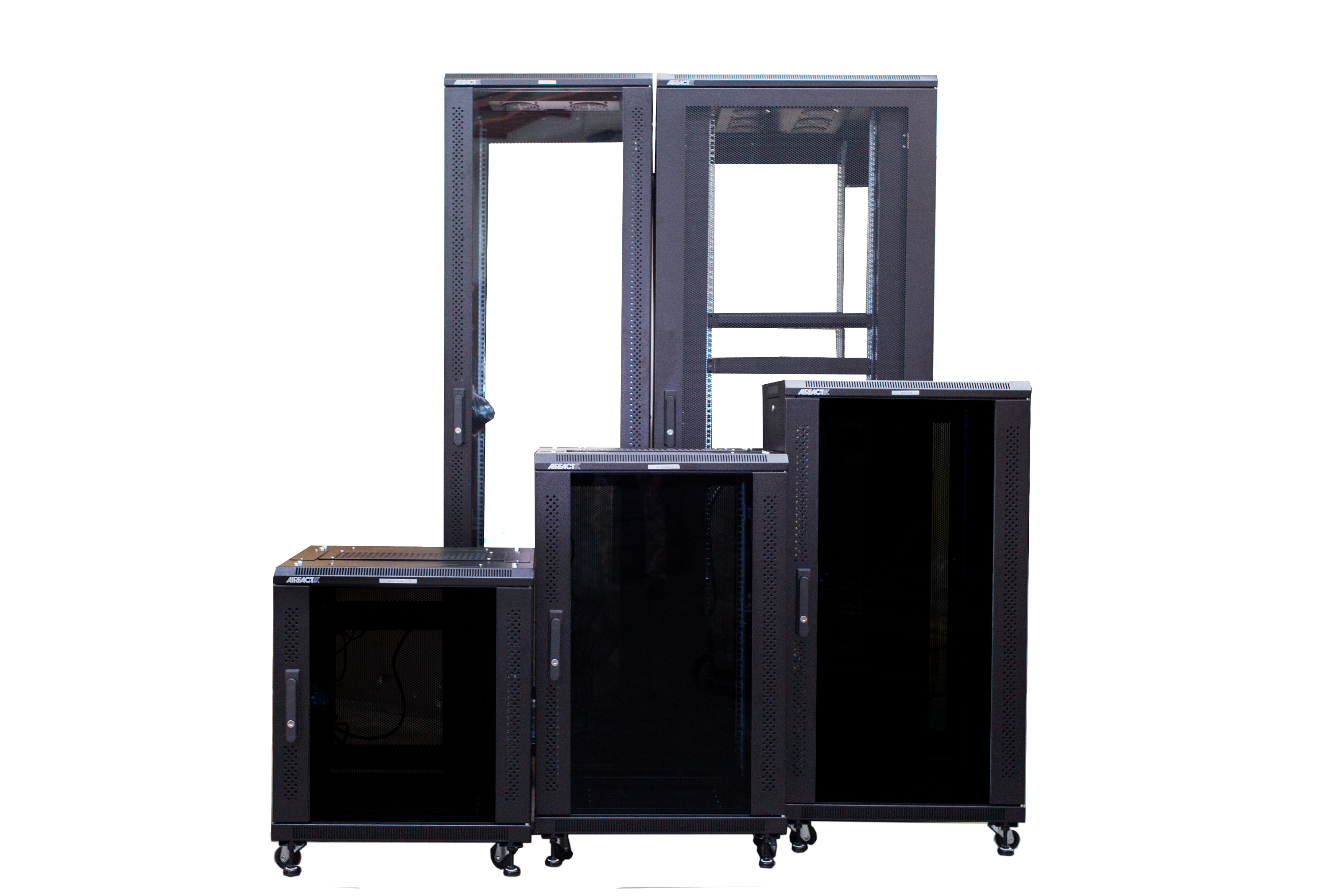 EM Series Cabinets are manufactured in compliance to international standards IEC 60297, EIA-310-D, DIN 41494-7b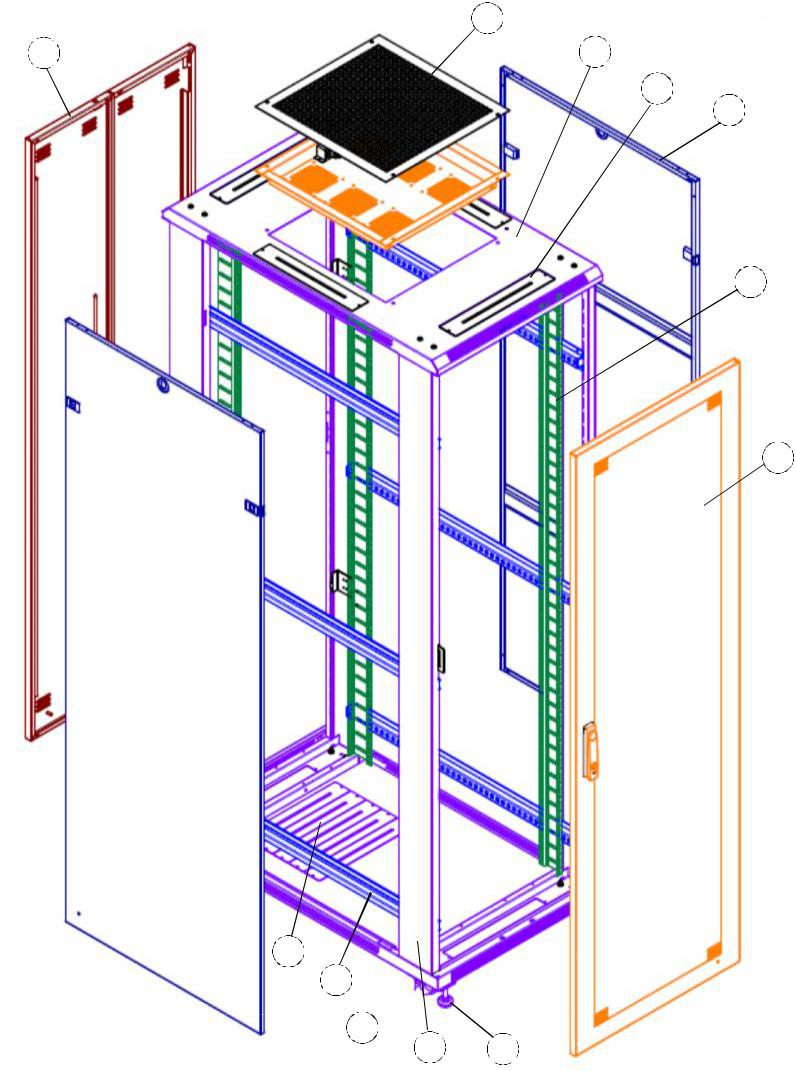 Parts List
Full Vented Top Frame with top cable entry
Top Mount Fan Tray (2 fans unit for 600mm depth, 4 fans unit for 800mm and 1000mm depth)
Cable Entry w/ Cover Plate
Vertical Frame
19" Panel Mount c/w "U" Indicator
Panel Mount Support
Vented Base Frame c/w Cable entry
2.5" Castors & Levelling Feet
Tempered glass door c/w perforated side frame & standing swing handle lock (1pc)
Fully perforated door c/w standard swing handle lock (1pc)
Side panel c/w quick release latches & lock (2pcs)
2pcs Fixed Equipment tray
6ways or 12 ways power strip 13A UK(6 ways for 12U, 22U Server rack, 12ways for 42U Server rack)
30sets or 50 sets hardware kit (30 sets for 12U, 22U Server rack, 50 sets for 42U Server rack)
At a glance

Material: Sheet Steel
Finishing: Epoxy polyester powder coated
Index of Protection: 20 (IP20)
Modular design with superior sturdiness
Black (RAL9004) or Light Grey (RAL7035) available
Delivered fully assembled and ready to use or
Nicely flat packed for ease of shipment
Static weight load: 1000kg


Warranty: One Years Limited warranty on Structure and body.
One Year Limited warranty on Electrical components.
Warranty is only applicable to Singapore only.
Ask a question
NO registration required!
1 Question(s) answered
If the question you have has not yet been answered here, use the form below to ask something about this addon.
Asked by GS Wong
on 24/04/2020

Dear Sir/Mdm May i know the price for the following: EM Series 19Inch Rackmount Server Rack Cabinets 42U x 600W x 600D (Qty: 12 Units) Colour: RAL 9004 Black Please include front glass door, rear split door, side panels, 2 fans, 12 ways PDU, 3 equipment tray, 2.5" castors and feet and 80 sets hardware kit May I know where are the EM series racks manufactured? What is the lead time to purchase 12 units? Thanks.

Answer:
Dear Customer, Thank you for your inquiry. Our sales team will be sending you an email with the replies to your questions shortly. Thank you.